Clearwater's Premier EBike Store
Electric Bike Sales and Service in the Tampa Area
Your Next Ebike Adventure Begins Here.
Flat terrain. Beautiful weather. Miles and miles of bike paths.
Florida is a dream come true for cyclists.
And now, Electrified Ebikes is making it easier than ever to enjoy what Florida has to offer with state-of-the-art electric bikes.
Here, you'll find an outstanding selection of ebikes from respected brands. And our Ebike experts are here to help you find the perfect bike.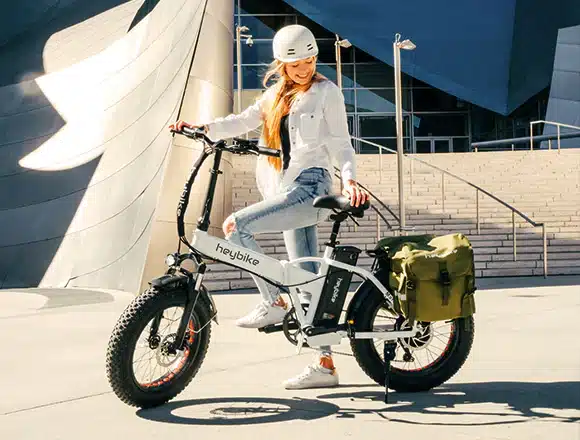 At Electrified, our goal is to make ebiking even more effortless. Our knowledgeable team will guide you through the selection process and ensure you find the perfect fit. So whether you're a seasoned rider or newbie, you can start your next journey today by visiting our Ebike store downtown.
At Electrified, We're More Than Just An Ebike Store.
Best-in-Class Ebikes from Leading Brands 
Outstanding Service from Ebike Experts 
At Electrified, we'll get you set up on a comfortable, reliable, easy-to-ride bike and help you keep it in shipshape for years to come.
In-House Financing Available
We know big purchases can be daunting. With our affordable financing options, you can make your dream ebike a reality without breaking the bank.
Your Source for All Things Ebike
Become the Sunshine State's newest lifelong ebike enthusiast with Electrified. 
Our skilled technicians can help you keep your bike in mint condition. 
Optimize your riding experience with accessories and riding apparel.
Find the Perfect Ebike Model
The experts at our Clearwater Ebike store are here to help you find the right bike—no matter your needs, preferences, or budget. 
Looking for speed, agility, and efficiency? Road ebikes are perfect for cruising Florida's paved bike paths.
Off-road bikes provide the ultimate off-the-beaten-path adventure. Explore the great outdoors with a little extra boost.
Compact bikes are the perfect solution for commuters who need a portable and convenient way to zip around town.
Kids, groceries, the kitchen sink. No need to travel light with a cargo bike.
Fast, agile, and fun. Commute, run errands, and explore the city on a city ebike.
Exceptional craftsmanship. Innovative design. Velotric delivers style, performance, and reliability for riders of all stripes.
Heybike offers exciting off-road adventures. A powerful, foldable electric bike that can handle any terrain
Electric Bike Sales and Service in the Tampa Area
At Electrified, we're committed to getting you on a bike you'll love—one that will serve you for many years and many, many miles. And we know a thing or two about ebikes, so whether you're looking for a brand new bike to take home or want to optimize your rig with the latest and greatest in ebike accessories, we're here to help. Here's how we can help:
What They're Talking About Electrified
Definitely was a great experience looking for an Ebike, Aaron was extremely informative/tentative and between toby and him it was easy finding the right fit for me out of the selection available! Thankyou guys for everything.
Satisfied Electrified Customer​
Aaron took great care of us came in to get my phone fixed and left with an awesome e-bike! Thank you!
Satisfied Electrified Customer​